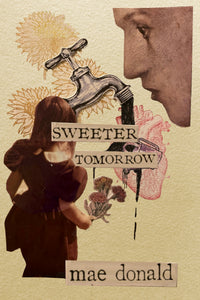 Poetry, chapbook, 40 pages, from Bottlecap Features.
Sweeter Tomorrow is a collection of 25 poems Mae wrote in 2021, illustrating the pain, and beauty, of being in love while suffering with mental illness/recovering from trauma and disorders. Mae believes that love is a beautiful thing, and so is healing, but knows both can get ugly at times. These poems are meant to capture the process of falling in love with yourself despite all the forces saying that you can't or shouldn't. Mae expresses in each of these poems the feelings they have held onto for so long and only now have begun to allow themself to feel, in an effort to heal for themself while also encouraging and assuring others can do the same. We all always deserved to be seen, understood, and believed, and so many of us have been denied that experience. Reconciling with life, even the parts that still haunt you to this day, is a journey we must embark on, for ourselves and for the world. In these poems, Mae tries to be as honest with herself and others of the ugly things they have done in attempts to be heard and seen. We do what we need to in times of immense pain, in times where all our body knows is fight, flight, freeze, and fawn.
Wanting to be better in a society and world that continues to get sicker and sicker is a truly exhausting experience. Departing from the identity of 'sickness' and reminding yourself of all the obstacles that brought you to such despair is so incredibly difficult, while also absolutely essential to keep moving forward. This collection of poems goes back and forth between these hopes and obstacles, hoping to ultimately inspire exploration and confidence that healing is what we want, and what we need. There are contradictions and dichotomies all throughout this chapbook, in order to accept the unsteadiness and unpredictability of life and love. These poems validate that it's okay to scream in the ugliest ways just to be seen. It is okay to need to be seen and heard and understood. We all need and deserve that, and Mae urges readers to allow themself to feel the ugly feelings, forgive themselves for the ugly things they have done, and know that they are not alone in it.
Mae Donald (they/she) is a student at UC Berkeley, studying Gender and Women's Studies with a minor in Global Poverty and Practice. Mae is an unpublished poet but has been writing in journals for as long as they can remember. They got serious about their writing in the early months of 2021, after a loved one expressed believing in them and consequently helped them shed their chronic imposter syndrome of being a poet. Mae is passionate about learning about trauma, on familial and societal levels, and how it affects the ways we live, how we love, and how we see ourselves and others. They dream of a career in which they can support children and young adults in processing trauma so they can live full lives, alongside their extensive plans to continue to write words for their own healing and others. The poets who have inspired their work and their healing include Emily Dickinson, Sylvia Plath, Mary Oliver, Trista Mateer, Sabrina Benaim, Andrea Gibson, and more; for all of these artists have been completely unafraid to face the ugly and make it into something bright, beautiful, and hopeful.