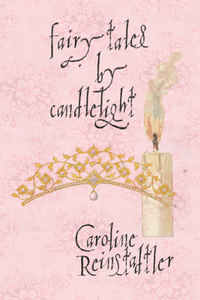 Poetry, chapbook, 24 pages, from Bottlecap Features.
This collection takes the reader on a literary quest that explores queer heartbreak, healing, and the passage of time. The collection asks the question: when you've been socialized as female, to be quiet, pretty, and high-achieving, what happens when you come into your own fullness? What happens when, upon exploring your own identity, you discover that life has more to offer than a gold star on a piece of paper?

Through bouts with obsessive-compulsive disorder and periods of unexpected solitude, the narrator relies on sunlight, community, and her own unrelenting curiosity to embark on a process of healing, traveling back in time to address previous generations of harm. She begins to see herself as the heroine of her own fairy tale, and she invites readers to find solace and hope in her words.
Caroline Reinstadtler is a writer, artist, and queer activist based in Brooklyn. Having earned her degree in drama from NYU, she's currently a staff writer at Bustle with bylines in HerCampus and SheSources. In addition to her literary work, she's a songwriter, and her original music is available on all streaming platforms under the name "Caroline Elise." Creative storytelling that drives social change is her motor, and she's especially passionate about representing queerness and obsessive-compulsive disorder through her work and with her heart. Controversially, her favorite Taylor Swift song is "Gold Rush."