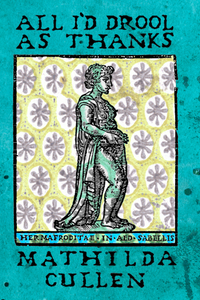 Poetry, chapbook, 24 pages, from Bottlecap Features.
"Why don't you whip a kiss in prose, tame aphroditos," all i'd drool as thanks is a record of collision, two or more tongues in aural reach and imprint. Homophonic translation holds the distance between languages in gelatinous stasis, the translator as one of many prisms through which echos are refracted. Not even names are solid, "caress out the broken sappho." They meld around the homophonic tongue like the mouth aching to receive it, signs are skewed as through a convex mirror. The re-locution of the name is the ligament toward which the muscle of translation grasps in attempt to fit the bone of the original, shedding all content in this bliss of form.
Part dissociative meditation, part trancelike incantation, all i'd drool as thanks is the trans counterpart to David Melnick's Men in Aïda, held in the aching negation of Sappho's fragmented papyri.
Mathilda Cullen is a poet and translator. Her published works include Stanzas for Four Hands: An Ophanim with Dominick Knowles, Illyric Elegies, a Belladonna* chaplet, and Vormorgen: The Collected Poems of Ernst Toller. Her poetics revolves around dissociatia, associations, and frenetics, while her translations typically focus on queer writers from East Germany.