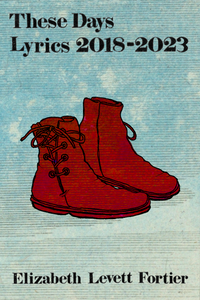 Poetry, chapbook, 32 pages, from Bottlecap Features.
These Days represents the songwriting of Elizabeth Levett Fortier for the San Francisco acoustic trio, Dreamchair Music, as well as the intercontinental collaboration, OurTown. Elizabeth has been writing, performing, and recording songs with her husband, musician, David Fortier for Dreamchair Music since 1988. The band has produced six albums of their music. (Odalisque, Home, Creek's Rising, The Way Things Are, and Get Ready, as well as a collection of covers and improvised jams, Porchboards.) Elizabeth began working with good friends, multi-disciplinary musician, Marcos Fernandes (Yokohama) and guitarist and electronic musician, William Gibson (Toulouse) composing and recording songs entirely through the use of remote recording and sharing tools. OurTown has released two albums, Here We Are and Dreams of You.

Elizabeth has written poetry and reflective pieces privately since she was quite young and has amassed an extensive collection of notebooks that contain the ideas she sources for songwriting material. In this way, she can usually have lines on hand to arrange as needed. In other cases, the lyrics come from hearing the music while it's still in the writing/arranging process. At these times she can discuss ideas for content and work with rhythm, rhyme, and melodic progressions while developing the lyrics organically. These Days represents a collection of her most recent songwriting, a period of quiet and relative isolation, when memory and dream became constant influences.
Elizabeth Levett Fortier is a writer and teacher living in San Francisco with her husband and musical partner, David Fortier. Board certified in elementary literacy learning, Elizabeth taught young learners in San Francisco from 1990 until 2022. Since participating in the Bay Area Writing Project's summer institute in 2013, she has been teaching young writers for the Bay Area Writing Project. Elizabeth is also a visual artist, creating watercolor, collage, and block print pieces.