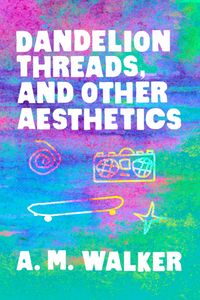 Poetry, chapbook, 32 pages, from Bottlecap Features.
Dandelion Threads, and Other Aesthetics is a poetry chapbook of twenty poems that range in topics and styles. Their subjects exist from the past to worlds beyond our comprehension. They feel at once specific and broad, acute and random.

These poems focus, both abstractly and concretely, on queerness, masculinity, perception, and confusion. Some, such as "corollary" and the "Ana" installments, illustrate narratives. Others like "I LIVE IN A DREAM WORLD—AND YOU CAN TOO!" invite the reader into a strange and philosophical world in which scenes turn on a dime and the piece begins to dissolve. Still more poems are merely attempts to grasp slivers of consciousness and pair them with images, as found in "the gamble".
Abigail Walker, published under A. M. Walker, is a young poet and writer from northern New Jersey. Much of her content stems from descriptions of imaginary people in her head. She attempts to describe the absurd qualities of the universe and the intense emotionality present in all of us. She enjoys mystery novels, Beatniks, coffee, and rain.