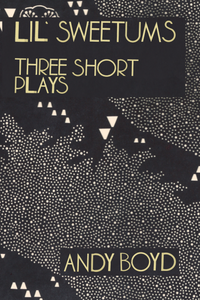 Drama, chapbook, 40 pages, from Bottlecap Features.
Lil' Sweetums contains three short plays by the playwright, songwriter, and cartoonist Andy Boyd.
I Sing the Tale is a cautionary tale about cycles of violence and retribution written in fake Old English and structured as a Powerpoint presentation.
Angela Davis Kidnaps My Mother, Age 6 is based on an actual recurring nightmare my mother had as a child about being kidnapped by the philosopher Angela Davis.

Game (After the Story by Donald Barthelme) is about two technicians in a nuclear missile silo who begin to suspect that things above-ground may not be going exactly according to plan.
Andy Boyd is a playwright, songwriter, and cartoonist based in Sunset Park, Brooklyn. He grew up in Tacoma, Washington and Phoenix, Arizona. His previous play The Trade Federation, or, Let's Explore Globalization Through the Star Wars Prequels was published by NoPassport Press. His cartoon book Suitable for Framing: The Collected Cartoons of Andy Boyd, Volume 1 is self-published and is available from his Instagram page @AndyJBoyd.