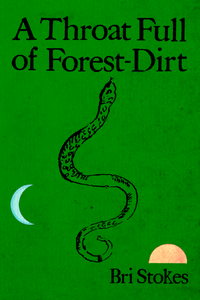 Poetry, chapbook, 24 pages, from Bottlecap Features.
A Throat Full of Forest-Dirt is an enigmatic snapshot of the complex relationship between envy and desire, how the two mirror each other, and how the artist endlessly toes the line between both. Through a mounting, hazy tale of fear and longing, Stokes examines her own (often fraught) relationship with desire—as a woman, an artist, and a citizen of a very-unwell America—through reflections on an ill-fated romance with a childhood friend. The author explores desire as a shadow, as a soulmate, and as a means of self-discovery, through a series of poems written in the liminality of the Covid-19 pandemic.

With every piece, Stokes paints the dreams and nightmares that wove through her experience of that liminal space onto the page in electrifying detail. These whimsical, sometimes painful ruminations draw the reader further into glimpses of boundless yearning, unease, and even past lives. Forest-Dirt—like many of the author's musings—is heavily inspired by motifs and themes commonly found in fairytales, mythology and nature, and seeks to give weight to the intangible through the lenses of symbolism and magic.
Bri Stokes is a writer, editor, curator, producer and poet born, raised and living in Los Angeles, on unceded Tongva land. Her writing, which explores themes of love, loss, identity, mysticism, depression, anxiety, and the Sacred Feminine, has been featured in BuzzFeed, Visual Verse, The Myriad, SKEW Magazine and The Winged Moon Magazine. She is a former poetry editor at the now-disbanded Hecate Magazine, and serves as the current Managing Editor at SKEW. Bri is a stargazer, a dreamer, and an eternal seeker. More information about her work and upcoming projects can be found on her website, bristokes.com