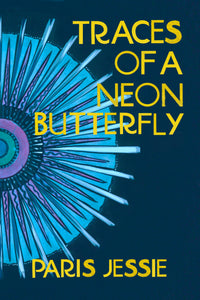 Poetry, chapbook, 32 pages, from Bottlecap Features.
What does it sound like to argue and reason and do it all over again? What color do tragedy and celebration make? This collection attempts to make a stand, yet may too fold. At war with the one thing we all soon face.
Traces of a Neon Butterfly is the second collection of work from Paris Jessie. Conversational, and explorative, these confessions work to paint recollections of a loved one. Tugging itself with one end light and airy; the other murky and heavy. These writings battle the societal dead end zone that sums up death and afterlife. Rather, it seeks to embrace the aftermath of memory woven by love and sheer witnessing. At times, stuck in a daze, while others a haze - the result harmonizing life and death. There is some unknowing in both.
Paris "PJ" Jessie (they/she) is a black, queer creator based in California. She is a moon enthusiast with a wicked howl. Their writings are rooted in deep emotion and play with nature, but are peculiar, nonetheless. Find more at iamparisjessie.com.