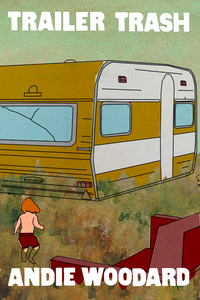 Poetry, chapbook, 36 pages, from Bottlecap Features.
TRAILER TRASH will resonate with anyone who was socialized as a woman, who identifies as a woman and is a woman, and who has ever been hurt by the patriarchy. This collection shows the patriarchy in many forms—a mother's boyfriend, a mother who learned to distrust other women and hate herself, churches where women are not allowed to speak, male lovers who learned romance from fathers who wouldn't let them cry and sex from porn—and reveals wealth disparity as patriarchy's vehicle. Capitalism is where social hierarchy is preached as a natural order, where some people are simply better than others and, therefore, deserve more, where certain bodies are commodified.

These poems discuss internalized classism, as well as the mental and environmental conditions that often accompany poverty, especially in the south: uneducated sexual exploration (and exploitation), untreated mental illness, addiction, insecure attachment in relationships, and religious idealization. For people living in poverty, these characteristics are inherited, and this collection explores that generational trauma through free-verse and erasure poetry. The work also explores "lifestyles" that are not accepted in the Bible Belt, like sexual liberation, queer relationships, and a refusal to look at trauma as something that "made you stronger." TRAILER TRASH is for anyone who needs their hurt to be reflected back to them and their rage to be validated so that they might finally walk the path, without interruption, toward healing and hope.

TRAILER TRASH is a memoir as poetry collection and is Andie Woodard's first published chapbook.
Andie Woodard (they/she) is a queer writer and activist. In 2017, they received their BA in Social Science, with a focus in Psychology and a minor in Journalism, at the University of North Texas, and in June 2022, they earned their MFA in Creative Writing at Antioch University. Andie has been awarded runner-up twice in the Mayborn Literary Nonfiction Conference's Personal Essay Contest (in 2014 and 2020) and received a Best of the Net nomination from Prometheus Dreaming for their poem "Self Portrait." Andie lives in the Dallas Metroplex with their very anxious emotional support dog, Sirius, and their little cat, Young Bernie Sanders. You can find more of Andie's work at www.ModusOperandiee.com.