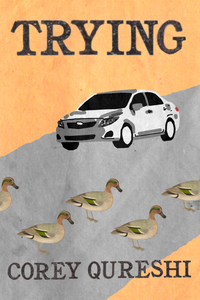 Poetry, chapbook, 28 pages, from Bottlecap Features.
In the rat race to exist, especially in a large city, driving can be infuriating. Trying channels a driver's disillusionment with the state of the streets in the City of Brotherly Love. Crumbling local infrastructure, the apathy people have towards one another, and the feelings that come from these daily interactions/engagements are explored.
In established, invented, and visually playful forms, the poems are agitated, impatient, and uncomfortable. They're asking and hoping for better future moments while yelling at others. There are SEPTA-adjacent scenes, the stresses of motor ambiguities, and surveys of relation to family, loved ones, the public, and self.
Corey Qureshi is a writer, musician, and parent based in Philadelphia. His poetry, prose, and art reviews have been featured in many print and digital publications, including BOXX Press, his publishing project. He wrote the chapbook What You Want (Dead Mall Press, 2023).