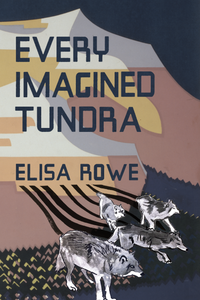 Poetry, chapbook, 32 pages, from Bottlecap Features.
"There's a lightness that permeates Every Imagined Tundra. These poems remind us of the beauty within the intricate and intimate. The radiance of the everyday moment. The glorious experience of witnessing the world around us and the 'arc of screaming sky.'"

-Tatiana Johnson-Boria, author of Nocturne in Joy

"Elisa Rowe's debut collection, Every Imagined Tundra, is a passage through the intimate winters of life. An ode to changing landscapes, external, corporeal, familial; the collection leads with crisp imagery, vivid topographies, and an earnest vulnerability. Rowe writes with a subtle resplendence, delving through the indelible and landing home. Every Imagined Tundra is a wonderful debut from a writer with a sure voice and distinct presence."

-Sharon Amunguni, writer and poet

"Every Imagined Tundra is where lavender, anxiety, bunnies, and love lives. Tundras are supposed to be lifeless, right? Well, Elisa's debut chapbook is nothing less than life giving. Each line, stanza and page is where melancholy meets revival. Elisa, a neurodivergent immigrant proves that truth can be liberating."

-Nakia Hill, Poet, Educator, and Journalist

"Poet Elisa Rowe expertly navigates the murky expanse of acute knowing in Every Imagined Tundra. Seeping with searing beauty, the bite of loss, the recognition of mortality, and more, Rowe's lyrical first offering sprouts up in the heart and lingers long after reading."

-Jacquinn Sinclair, Journalist

"Elisa Rowe takes us on a journey into Boston through the lens of a neurodivergent immigrant, a journey where we experience 'licking the gray air' and where our bodies are 'a survival kit.' Every Imagined Tundra is a beautifully rendered collection of poems."

-Soyoung L. Kim, artist and writer
Elisa Rowe (she/her) is a neurodivergent immigrant, writer, educator, and poet. Her work has appeared or is forthcoming in Michigan Quarterly Review, SAND Journal, Sable Books' anthology: The Ending Hasn't Happened Yet, Sojourners Magazine, and elsewhere. In 2019 and 2020 she was selected by Boston Poet Laureate Porsha Olayiwola to participate in the Boston Mayor's Poetry Program. You can find more of her work at www.elisarowe.com or follow her on Twitter @elisacwrites.