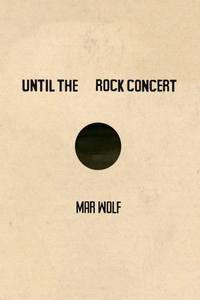 Prose, poetry, chapbook, 16 pages, from Bottlecap Features.
Until the Rock Concert is comprised of four prose pieces and one poem by Mar Wolf. Founded in the haziness of dream recollection, stories are told as from the perspective of active anamnesis — haunting, pictorial dreamscapes bring forth rich themes of inner privacies, repression, and, on a greater scale, the combing for digestible meaning within one's inner workings.
With each detail pulled from sub conscience, each emotion attached to each figure, another ten are altered. Layering perspectives, from within a dream, in attempt to recollect, in passing of information, Until the Rock Concert works to deconstruct the stories one's mind creates in order to understand. Through this, the more human and constellational undertones begin to reveal themselves;
Loss of autonomy. A woman's rights are revoked. A wavering canoe trip with young siblings, confined to only the view ahead; at the river's fork, the narrow liberation is threatened by the boat's owner and the panic sets in. Phantom grief. A child stands in a block party's piss puddle, aware of a coming loss, they cling and play catchup to the details they value for the hell of it. Sex dreams without the sex. Mouthfuls of fishbones and a loss of friendship. Italian swims in mother's afterbirth and plain corndogs coated in Montana's orange dirt.
What do you forget when you remember?

Mar Wolf is a Brooklyn-based writer, bookmaker, translator and visual artist working in the surreal. Published in New York, Los Angeles, Philadelphia and Melbourne, Wolf's work delineates memory and imperative understanding of the hazy miasma that each recollection gains when rolled through again, tapping into a confluence of mediums to express the strata and freefall in senescent misrecollection.