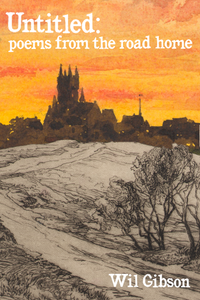 Poetry, chapbook, 24 pages, from Bottlecap Features.
Untitled is a collection that displays the life of a poet, as a poet. From the miles between towns where you can finally clear your head, to the stages or podiums where we speak ourselves into a vocation, to the stability of family and home; this is a snapshot look at one poet's experience with the familiar and unfamiliar.

At times lonely, & other times wondrous, the mind of one poet is displayed at work, & at home. There are ugly times alongside beautiful ideas. There are laughs as well as questions that don't have answers, but at all times a search for something.
Wil Gibson currently lives in Humboldt County, California where he currently serves as Eureka, California's Poet Laureate. He has had 5 collections published by kind people, and has been included in a number of anthologies and lit mags both online and in print, such as Marsh Hawk Review, Button Poetry, Midwestern Gothic, Drunk in a Midnight Choir, and many more. He has twice been nominated for both a Pushcart and Best of the Net, & alongside his patient partner, Susanna, is the new owner & editor-in-chief of Swimming With Elephants Publications. You can find links to books and more info at wilgibson.com