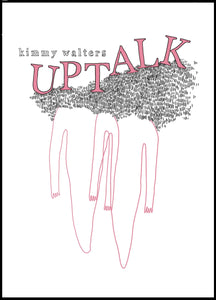 Poetry, paperback, 69 pages, from Bottlecap Press.
Uptalk is Kimmy Walters' first poetry collection. By turns sassy and serious, the poems can seem to sprint in two directions at once, managing to make the reader laugh at the same time they are struck by the emotional strength of the work. 
"Charming, inviting, beguiling and delightful poems in the language of someone who seems alive speaking refreshing riddles to herself."
-Sheila Heti
"Uptalk is a book of transcribed whale songs. Some scientists gave a whale a microphone and she took it home and stayed up all night under the covers talking to herself about faces and word-parts. I am delighted that Kimmy took it upon herself to transcribe this unique document of marine biology, and my heart goes out to the brilliant, charming whale author, wherever she may be."
-Sara Woods
Kimmy Walters (b. 1990) is the author of two poetry collections, Uptalk (2015) and Killer (2016). She lives in San Diego, CA.