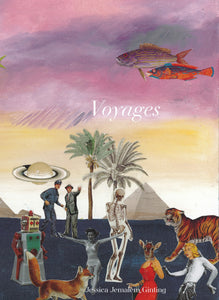 Poetry, chapbook, 36 pages, from Bottlecap Features.
 
Influenced by speculative writing, Voyages is a collection that follows the Earth and its inhabitants through various stages of transformation. Time, people, stories and places continuously evolve and morph, taking new forms. Science turns into dreams, then into a themed party at the apocalypse. Love turns into grief, then it turns people into salt. Humans, angels, animals are all made and unmade.
This collection combines portraits of the afterlife, idyllic realities, even ones fragmented at the seams, and lucid visions of the future.

Jessica Jemalem Ginting is a poet, translator, editor and comic writer from Jakarta, currently residing in London, England. Her poetry has been published in Toho Journal, Chogwa Zine, The New Verse News, Bristol Poetry Anthology and Anak Sastra. She was the editor of the poetry and art zine, UTOPIA in 2020. Her debut poetry collection, Moon Petals, was published in 2017 at the Ubud Writer's and Reader's Festival. She is also the writer and creator of the original Indonesian superhero comic, ROSANA!