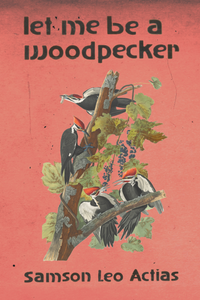 Poetry, chapbook, 28 pages, from Bottlecap Features.
let me be a woodpecker is the debut chapbook from poet Samson Leo Actias. Grounded in descriptions of the ordinary, Actias explores human struggles and emotions in a way that is both personal and universal. These poems touch upon rage at the world's hostilities, loss of love and connection, hope, fear, and the work of aspiring beyond one's current circumstances.

As a trans and queer writer, Actias writes poems that provide insight into both his personal identities but also the more generalized human identity. Through descriptions and explorations of the individual's experiences, these poems create a compelling portrait of the ways one can navigate the complexities of day-to-day life.

let me be a woodpecker was written from the perspective that beauty is right here, right now in the mess of things rather than being something above and beyond our normal daily lives. Whether it's the comfort of a passing butterfly or the wisdom of an old family photo, daily occurrences are the heart of our lives, and Actias presents here a polished collection of poems attesting to this truth.

Samson Leo Actias is trans, queer, and a Zen Buddhist and lives in North Carolina with his boyfriend, their three dogs, and lots of trees. He likes black coffee, Thelonious Monk, Pokemon, and tattoos. He is a prose editor for Flare Journal. He invites readers to send correspondence to PO Box 46554, Raleigh, NC 27620.