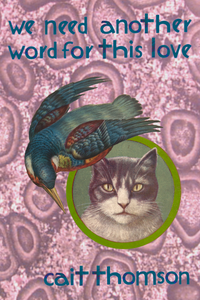 Poetry, chapbook, 52 pages, from Bottlecap Features.
we need another word for this love is the first collection of poetry from cait thomson. assembled with poetry from over two years, it is a collection of poems exploring the different ways we experience love, interpreted through the lens of the ancient greek concepts of love.
with wit and an anxious urgency, we need another word for this love looks at the love we have for our children, our friends, our selves, and the passionate loves that turn us inside out. the collection ends by asking us to consider another love, that for life and for the world around us.
cait thomson is a queer mama, cat hoarder, and writer based in ottawa, canada. her poetry has appeared in a variety of canadian and international zines, anthologies and online magazines. for more of her work, check her out on instagram @cait.t.poetry