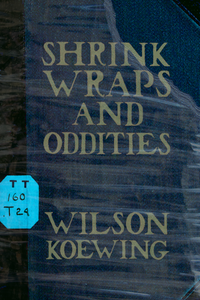 Prose, chapbook, 32 pages, from Bottlecap Features.
The stories in Wilson Koewing's Shrink Wraps and Oddities' range from darkly whimsical to just plain dark. Koewing's characters stick with you long after they've left the page: a couple struggling to cohabitate during the pandemic, a business woman in Denver discovering the shocking truth about a man who ghosted her, an unfaithful wife dealing with the aftermath of her infidelity, a pair of high school friends trying not to drown under the weight of online bullying, a young couple on the lam go on a killing spree across the southwest, a sex trafficked Belarusian woman explains the horrors of her daily life in a Prague sex club, a burnt out sous chef rekindles his love for passion and cooking.

In just 36 pages, through his trademark minimalist prose, Koewing plunges the reader into some of the darkest, most disturbing terrain imaginable in our modern landscape. Then, somehow, a shimmer of light appears and he pulls us to safety, leaving, not a sense of hope, exactly, but a belief that there is always a reason to keep going.
Wilson Koewing is from South Carolina. His work has appeared in Pembroke Magazine, X-R-A-Y, Wigleaf, Hobart, The Journal of Compressed Creative Arts, Maudlin House, New World Writing and others. His debut short story collection Jaded is forthcoming from Main Street Rag Press/Mint Hill Books. His hybrid collection Quasi is forthcoming from Anxiety Press.