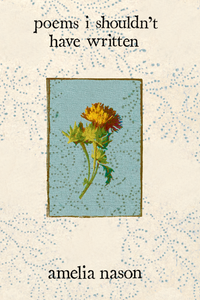 Poetry, chapbook, 28 pages, from Bottlecap Features.
interwoven with fact & fiction, poems i shouldn't have written chronicles young love in its many forms: summer mistakes, flowers confused with weeds, unrequited daydreams, poor emotional investments, wanderlust, caring too much. this debut chapbook frames the end of an era in free verse, brimming with messy, vulnerable pieces that perhaps shouldn't have been written in the midst of a world where we hide behind indifference—but needed to be. these poems are the product of amelia nason's last autumn in high school, encompassing a hectic season of college applications, motherly affect(at)ion, self portraits in stanza, & wasted intimacy. composed entirely without the benefit of hindsight, the collection is achingly urgent as it immerses the reader in nostalgia for the present.
amelia nason is a next generation indie award finalist, a scholastic award winner, & an alumna of the interlochen, fir acres, & new york times summer writing programs. she also edits for kalopsia literary journal. her work is featured in the ice lolly review, full mood magazine, hand picked poetry, lunar journal, diet water mag, & the origami review. when she isn't writing, amelia fences competitively. you can find her on twitter @amelia_emn.